AYURVEDIC CONSULTATIONS AND HEALTH COACHING

The body is an intelligent, self-healing organism and there is an infinite abundance of energy in each of our cells.
This energy is available for us to be used in acquiring an optimal state of health and well-being – both physically and mentally.
In its attempt to achieve harmony and health, the body is continuously telling us exactly what it needs to set it free. 
All we need to do is to learn how to listen.
Ayurveda is an ancient medical system that is based on building a deep relationship with the body and its cellular intelligence.
In this way, we can not only prevent disease and optimise our energy levels, but in many cases actually reverse  imbalances like 
Digestive issues
Chronic, inflammatory diseases & autoimmune diseases
menopausal symptoms
weight issues
fertility issues
diabetes 2
menstrual problems
mental health problems
depression/anxiety etc
Symptoms of autism, fasd and ADHD 
If you feel ready to make some changes in your life, get to know your body on a deeper level and experience the powerful increase in energy and wellbeing that an Ayurvedic lifestyle can give you, then please write me a message in the contact form below.
Ayu means Life and Veda means knowledge, science, or wisdom.  Ayurveda is the science of life – or the knowledge of how to live our lives wisely, in optimal health and harmony with ourselves and our surroundings.
LIVING IN HARMONY WITH NATURE CREATES HARMONY WITHIN YOUR BODY
Ayurveda is like a langage, that enables us to communicate with our inner, cellular intelligence. In that way we can have a real, healthy and loving relationship with our bodies and with the world around us.
THE BODY IS AN INTELLIGENT, SELF-HEALING ORGANISM 
Ayurveda teaches us how to trace a disease back to it's origin and how to understand why it was created in the first place.
And most importantly, it gives us very practical and easy ti apply methods through which we can so we can re-create and maintain a cellular balance that ultimately prevents and often even reverses disease.
The ancient teachings of Ayurveda originate in India and have been influenced by Indian culture, which is why they contain so many delicious Indian recipes. However their principles can be applied to any culture in the world. Adopting an Ayurvedic lifestyle does not mean eating Indian food everyday (although I love Indian food), it means living wisely and in allignment with nature.
                                                             WHAT YOU CAN DO TO GET STARTED:


TAKE A DOSHA TEST TO FIND OUT WHAT YOUR INDIVIDUAL CONSTITUTION IS

(This is just a general guideline - for a more exact result please book a consultation)



Get a consultation or book a coaching package
During an initial consultation we will analyse the nature of your imbalances and trace them back to their origins. We will analyse your metabolic type and your doshic imbalances. 
A plan of action is then devised for you that allows your body to unfold it's healing mechanisms and natural balancing functions optimally.
This will include personalised diet and lifestyle recommendations as well as recommendations and helpful resources for self-care practices.
To book a consultation, please use the contact form below and write me a brief message explaining your main issue. 
The cost for a single, initial consultation is 100 Euro. 
Changing old habits can be difficult to undertake on your own. If you would prefer my guidance along the way, helping you to implement changes step by step without being overwhelmed and supporting you in weak moments, then a coaching package might be the best for you. It will begin with an initial consultation and regular meet-ups to monitor your progress.
I will also check in with you regularly during the week on whatsapp, so you can feel supported all along the way.
The length or intensity of this can be adjusted to your needs. To find out more, please use the contact form below and write me a brief message explaining your main health issue.
GET THE BOOK

Ayurveda - Health, Digestion and Immunity

An easy guide to understanding and applying Ayurvedic principles
This book was written especially for you!
It started as a simple handout for my clients, but over time, it grew into a book.
I believe that knowledge is power – if you understand the principles of Ayurveda for yourself, applying the recommendations will be so much easier, because they truly will make sense to you. And it may inspire you to love your body more.
With this book, I wish to  empower and enable you to take your health in your own hands.
A beautiful printed version is also available.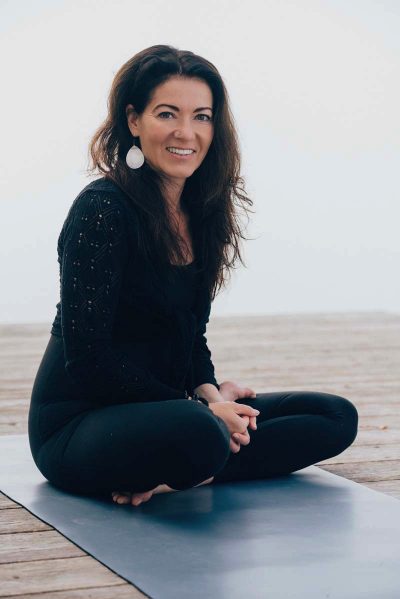 "I have known Sandra for a number of years now and have experienced several different treatments from her. The most notable one for me was the Ayurvedic Massage. I cannot recommend it highly enough. I have had many many massages over the years and can honestly say that Sandra gives the best massage ever. It is truly holistic and the benefits are felt immediately – greater enery, a huge sense of well being and a general feeling of peace within and without. Sandra gives more than any practitioner I know. She has a wealth of knowledge and experience and brings it all without bombarding the receiver. I am not sure how it works, Sandra will tell you that, but I just wanted to say to you – book immediately and find out for yourself."
Gillian Wild
"I have been attending Sandra's Yoga classes on and off now for a few years. I find her to be an amazing teacher: passionate, holistic and knowledgeable. So when I heard that Sandra was offering Ayurveda treatments I was thrilled and promptly made an appointment. After initial consultation Sandra determined that I was predominantly pitta and prescribed Indian herbs and a diet. Within a few days I felt heat leaving my body. On day 10 I cleansed (quite literally!!). My body felt lighter, my head clearer and I had more energy. A few weeks later on a second visit Sandra modified my diet and gave me different herbs, this time to balance Vatta. I also had a fabulous full body massage. Since starting these treatments I have experienced real change. While I have done and continue to do many things to maintain my health and wellbeing I have no doubt about the real changes that Ayurveda has brought me to and for that I am very grateful."
Brenda Harkin