Poppyseed and Blueberry Smoothie
This smoothie is my latest obsession and the reason I want to re-introduce the RECIPE OF THE MONTH. Poppyseed and Blueberries. Yum!
It brings me right back to my early childhood, into my great-grandmothers kitchen, with its old fashioned range and the cherry-printed wallpaper – I used to pretend to eat the cherries off the wall.
For just about any occasion she would fire up the oven by loading it with chopped wood to bake one of her famous ring shaped cakes, stuffed with a sweet, black paste made from poppyseeds.
The cake itself was heavy and yeasty and – unless you dipped it into hot coffee, which I didn't yet know the joys of – too dry for my young taste buds.
But I absolutely loved the poppyseed stuffing.
Sweet and sticky and mysteriously black, with a taste of grandmotherly love.
To this day, I adore the taste of poppyseeds.
However, I also adore my health and try to eat cakes like that really only for special occasions (like on my most recent birthday, where my dad made me the most luscious poppyseed and raspberry cake I've ever tasted!), so I thought I'd try a healthy creation instead.
I've always been a big fan of smoothies, at least since I got my first power blender as a gift about 15 years ago now. It easily blends nuts and seeds and even avodado stones if you like.
Poppyseeds are nothing for it.
If your blender isn't quite as powerful, try soaking the seeds overnight in water.
The recipe is incredibly simple:
Add 2 Tablespoons of Poppyseeds to the blender, together with 1 glass of plant milk (to make it creamier) or plain water. Blend it for a bit, until it is milky-smooth and bluish grey in colour. Then add a good handful or two of blueberries and blend them as well, until you have your favourite smoothie consistency.
You can also add some ice cubes to avoid it getting too warm from the friction of the blender.
I didn't feel it needed any sweetener but of course you can add some dates (with the poppyseeds) or maple syrup or honey (with the blueberries), to achieve your perfect taste.
Just don't let it stand too long, as the blueberries will turn to jelly soon enough.
It is so delicious, I love it both as a breakfast as well as as an afternoon snack, or a late-night drink before bed (add some nutmeg to it and you have a great remedy for sleeplessness).
Poppyseeds contain good amounts of B vitamins, fibre and plenty of minerals, especially calcium, magnesium, iron, manganese and copper.
They improve digestion, sleep and fertility and are great for bone, thyroid, brain and heart health. They have been used to treat mouth ulcers and kidney stones and can lightly reduce nerve pain. They calm Vata and Kapha and are also safe for children to use.
They make a great drink for children and can help them with diarrhoea or sleeplessness and nervousness.
Blueberries too are extremely rich in nutrients, especially antioxidants and vitamins.
Together they make a great pair, both in taste as well as in effect. Their nerve-calming and strengthening ability makes this a great drink for anyone suffering from an unstable mind or emotional pain.
And honestly, the taste is just simply delicious.
Enjoy!
(Below is a picture of what my grandmother's cake looked like… )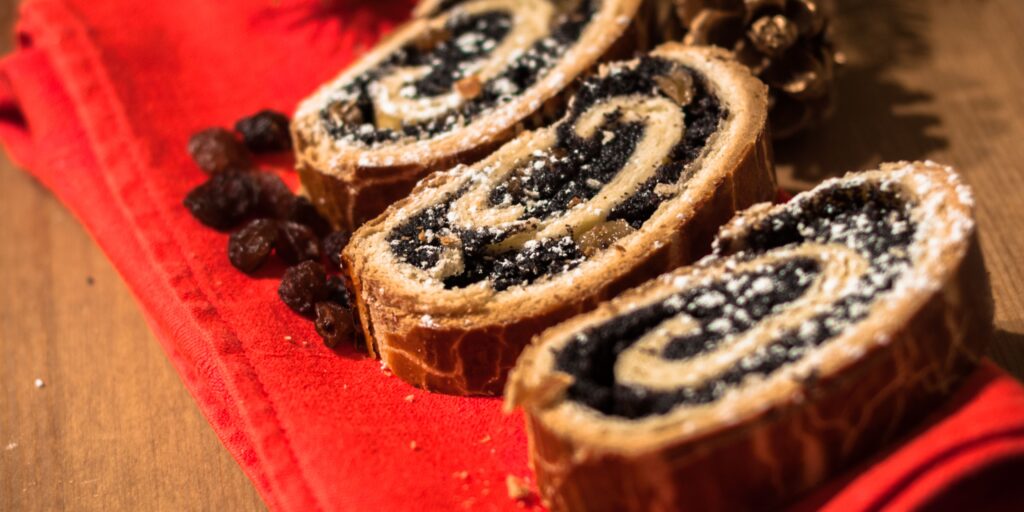 For more information on Ayurvedic offerings go HERE
If you want to become your own expert in Ayurveda, consider visiting the Little School of Happiness and taking the online course on Ayurveda HERE.
You can also listen to my podcast series on Ayurveda HERE.
Or you can buy my e-book HERE.
For any other information, please contact me below or sign up to the newsletter in the footer.