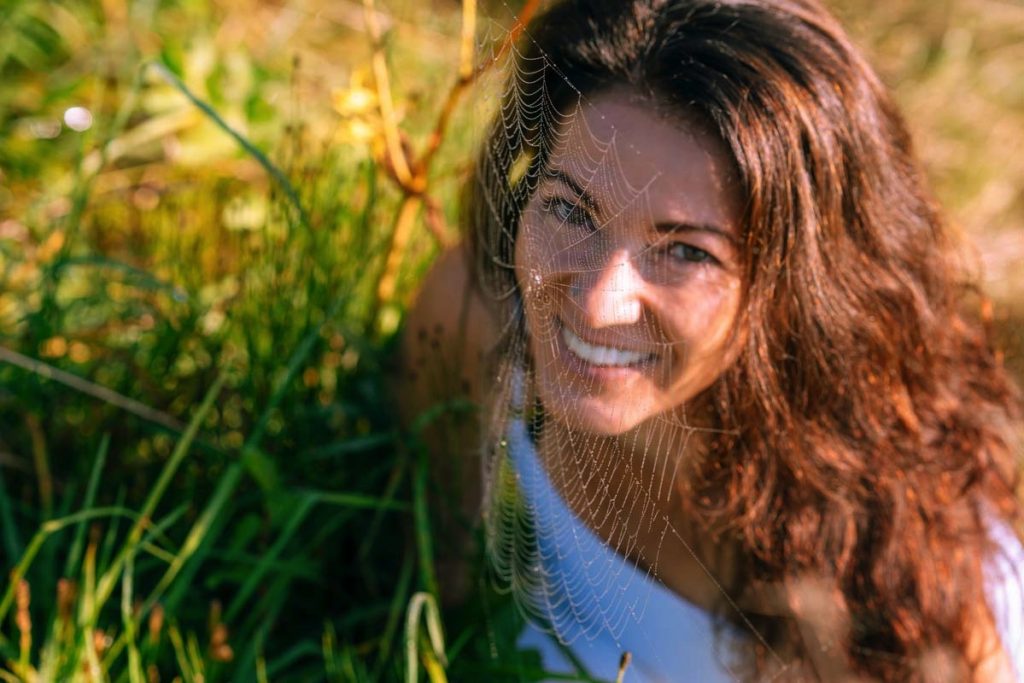 My mission here is to empower people of all ages and abilities and help them realise and activate their innate abilities to heal and to create the life they truly want to live. Because we all are perfect beings – a microcosm of the universe. We just have to remember. 
Through the ancient Vedic practices of Yoga, Ayurveda and Jyotish as well as through transformative creativity and inner re-set methods, we have the perfect tools available to us that will teach us – not only in theory but in practice. And you can start right now! 
MY JOURNEY
My own journey of transformation started with a near-death
experience in 1992, during a motorbike accident, which quite
literally catapulted me on to a path of self-discovery and
awakening. It was the call to action in my hero's journey.
To find an answer to the big question of
who am I,
I studied
theatre and dance, took on many jobs (stilt-walker, fire-breather,
youth-worker, dancer, bouncer, post-natal assistant, medieval
performer, to name a few…) and travelled in search of adventure.
I studied the dances of the Gypsy trail and learned about the meaning of the divine feminine through ancient forms of female expression and for many years I taught Belly Dance to groups of amazing women in Ireland.
I met incredible teachers who taught me about my own potential and powers of manifestation, studied Ayurveda, Creative Writing, Vedic Astrology and Vedic Philosophy and learned many useful tools along the way, like Shamanic Journeying, TRE and transformative writing.
I have travelled the journey of my soul – including its darkest nights and brightest days – many times in my life and now I want to others along its paths.
Since May 2021 – after 24 years of living in Ireland – I have moved to the beautiful town of Murnau am Staffelsee in Bavaria, Germany, where I teach Yoga and offer consultations and coachings in person.
TRAININGS & QUALIFICATIONS
200 hour classical Yoga teacher training (Ashram Yoga Ireland)

40 hour teacher training in Ashtanga Yoga Primary Series (David Swenson)

200 hour Ashtanga Yoga teacher training (David Collins and Paula Herbert)

250 hours classical Yoga philosophy (Brenda Feuerstein) 

300 hour Advanced Yoga teacher training (Elbow room Dublin)

40 hours Yoga for Kids (Rainbow Kids Yoga)  

80 hours Yin Yoga (Josh Summers)

40 hours Trauma sensitive Yoga (with Mandala Yoga Project)

250 hours Vedic Counselling (David Frawley)

Ayurvedic practitioner diploma 3 years (Ayurvedic Institute UK, London) 

Ayurvedic Massage Therapist diploma with the Ayurvedic Institute UK

Creative Writing Diploma 2 years (Writers Bureau UK)

Jyotish – Vedic Astrology 3 years with Marianne Jacuzzi

Marma Therapy with the Marma Institute of Ayurvedic Acupressure

Further Training in coaching related areas



 
Dance & Movement Therapy (Campus Naturalis, Munich)

Jyotish – Vedic Astrology – mentorship program with Marianne Jacuzzi
CHECK OUT MY LATEST PODCAST EPISODES HERE!
Listen now to discover more about Ayurveda and how it can get you to fall in love with your body again…
WE ARE A MICROCOSM OF THE WHOLE UNIVERSE. 
WE CONSIST OF THE MOLECULES OF HEAVENLY BODIES – WE ARE THE REINCARNATION OF STARS. 
WE CONSIST OF THE WATERS OF ANCIENT OCEANS AND WE BREATHE IN RHYTHM WITH THE TREES. 
THE EXPERIENCES OF ALL HUMAN BEINGS WHO EVER WALKED THE EARTH BEFORE US IS RECORDED IN OUR DNA. 
OUR DRIVING FORCE IS LOVE, WHICH IS REFLECTED IN THE DUALITY OF EVERY SINGLE ATOM IN OUR BODY. 
WE ARE NOTHING BUT LIGHT, ENERGY AND SOUND, IN SEARCH OF HARMONY AND WHOLENESS.