The Little School of Happiness is an online and in-person offering for you, to learn all that you can about the transformative practices of the Vedic Methods. 
You will find comprehensive online courses in Vedic Philosophy, Yoga and Ayurveda to take in your own time, as well as mentorship programs for those of you who want to apply the Vedic Philosophies practically and personally with my guidance for both personal and professional reasons.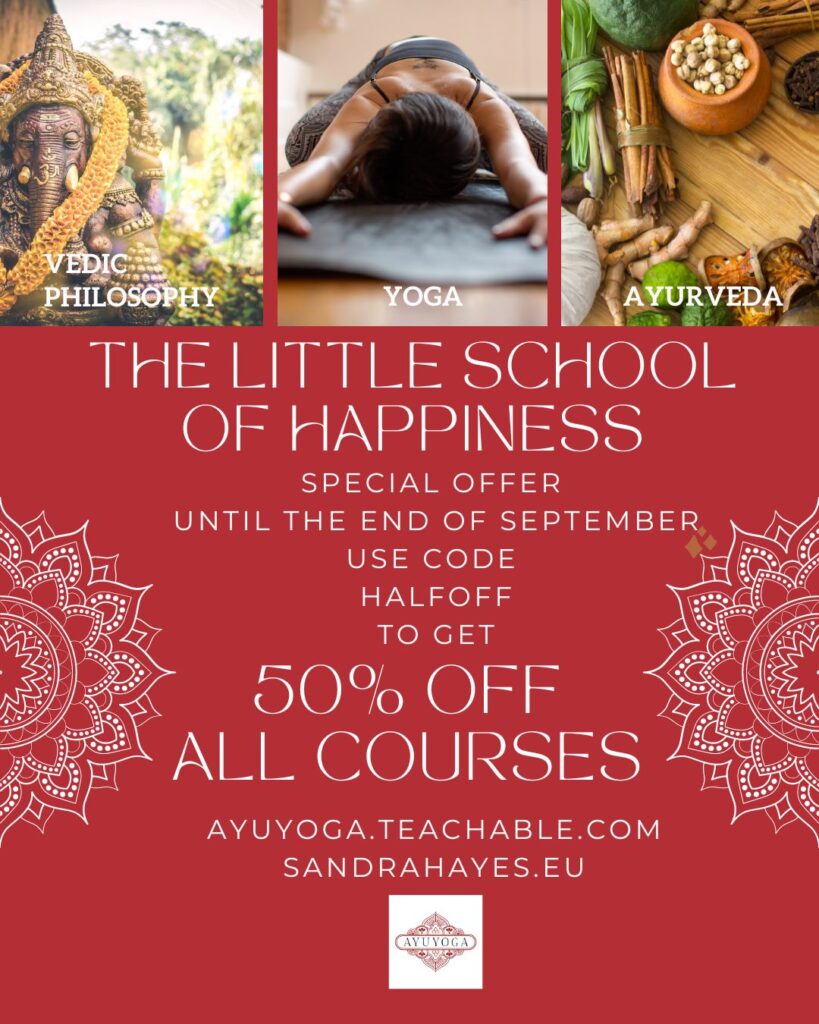 I have been cocooning for a while, working on some writing projects and courses and I have been neglecting you for it. My apologies! Let me extend a hand and offer you all of my content (almost 100 hours of video and audio lectures and guided practices plus free articles and an e book!) for half of its price. 
That is a LOT of content for your money.  But I really want it to get out there because I believe it is the most life-changing, transformational journey you can possibly undertake! 
So I hope that you will take the plunge! 
If you have questions, let me know. 
Otherwise just go ahead and use the code HALFOFF on enrolling on any or all of the courses I currently have to offer (see below). 
To enroll, go straight to Ayuyoga.teachable.com

The Little School of Happiness - online courses


Understanding Yoga and building a home practice
In nine weeks I will guide you toward not only building a Yoga sequence that will sustain you for a very long time, but also toward understanding Yoga from its original basis – the Yoga Sutras and Bhagavad Gita. In addition, I will take you on a journey through the chakras, which will help you in your own personal healing and transformation.

Embodied Philosophy and Vedic Counselling
This is a comprehensive course aimed at Yoga Teachers, coaches and therapists as well as anyone with a deep interest in Vedic Philosophies. Here, you can get an understanding of the true potential that unfolds for us when we see the Vedic scriptures as a holistic science and apply them to our everyday life instead of limiting ourselves to just one aspects of their teachings. From the basic concepts of time, consciousness and nature, to understanding the language of the soul in form of mythology and symbolism, to practical experiences and practices, we can expect the potential for deep transformation for ourselves and our clients.

Ayurveda (not just) for Yoga Teachers
You will learn all of the underlying elements of Ayurveda so you can understand the human body in its holistic sense. After having understood the basics, we can apply them in our own daily life, in simple, practical ways. Learn how to apply all of the principles of Ayurveda to your own Yoga practice as well as to your work as a Yoga Teacher.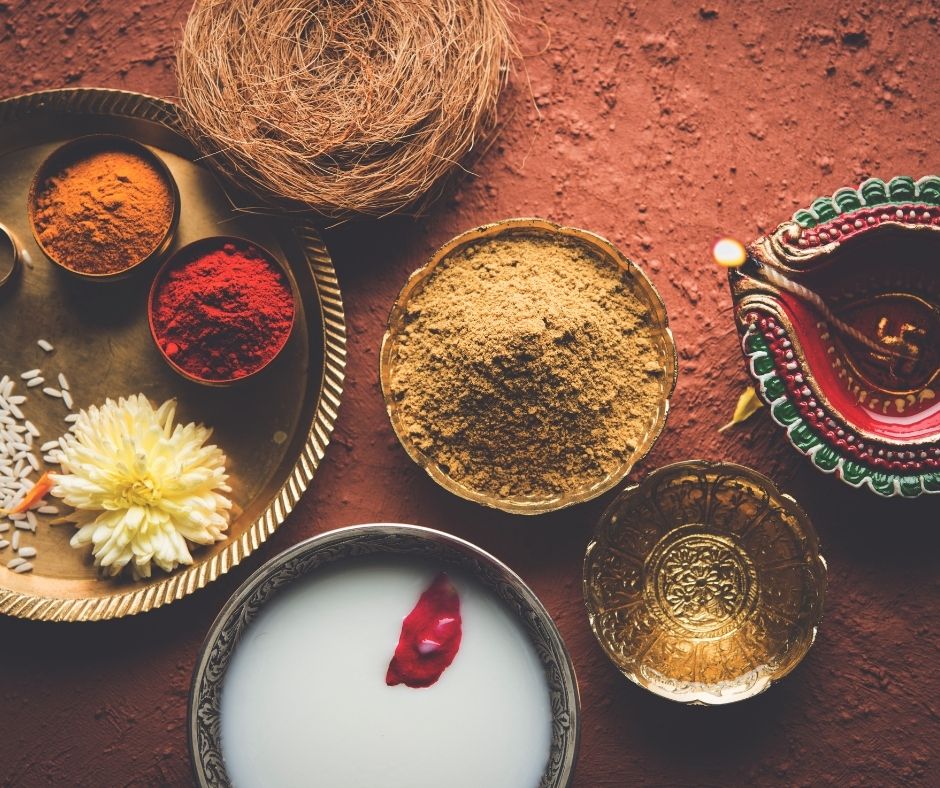 The Dare To Shine Mentorship Program
With this program, you will get access to all online courses as well as my personal guidance. You will receive a Vedic Astrology reading, an Ayurvedic Consultation and personalised practices, as well as personal guidance on Vedic Philosophy. If you wish, this course can also be certified for professional development. 
If you would like to get a flavour of my teaching style first, please feel free to listen to my podcast on Ayurveda:
CHECK OUT MY LATEST PODCAST EPISODES HERE!
Listen now to discover more about Ayurveda and how it can get you to fall in love with your body again…

What previous students had to say:
"I started Sandra's course (the Dare to Shine Program) because I was in the middle of a period of soulsearching and a longing for authenticity, especially in the work that I do (as a play therapist)… I was especially blown away by some of the insights that came through in the reflection exercises. I loved every minute of it."
Marie Byrne
For any questions or queries please contact me here